How does offering public Wi-Fi in your tasting room affect your online engagement? Our curiosity led us to drive up and down Napa Valley's Highway 29 testing public Wi-Fi connection at 20 of the major wineries. What we found was only four out of the 20 wineries surveyed offered free public Wi-Fi (No passwords required). As smart phones have increasingly become a staple of everyday life, offering free Wi-Fi can benefit a winery in a few simple ways: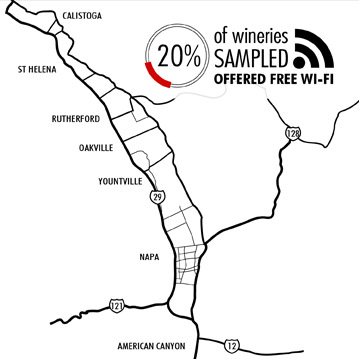 Social 'check-ins' – The act of checking in allows visitors to share their location with friends. Check-ins are a great form of indirect marketing for wineries and boost engagement on your brand's Facebook page. When someone checks in at your winery a story is created in their newsfeed, which expands the reach of your brand to people outside your existing fan base.
Online sharing – Uploading photos to Facebook, writing reviews and Tweeting have all become "normal" ways people share their lives and experiences. Facebook and other channels act as digital diaries chronicling where people travel and what they are eating and drinking. Social media is built for sharing the exact type of experiences people have while visiting wineries. Offering free Wi-Fi can facilitate the free word-of-mouth exposure social media provides for your brand.
Building relationships – One of the goals of tasting rooms is to foster relationships with customers not only when they visit but also when they leave. Having Wi-Fi in the tasting room makes it easier for people to get online to 'like' a Facebook page, join a wine club or sign up for an email newsletter – all easy ways to stay connected to the brand after leaving the tasting room.
Providing information – The internet is where most people turn to answer questions and research unfamiliar things. If a customer would like to find your wines near them or read more about your current vintage on your website, then making it easier for them to connect to the internet is going to give them access to information and lead to a deeper involvement with your brand.
SUMMARY:
Why do we want people online in the tasting room versus simply enjoying the experience? The reality is we want them to do both, but making it easier for customers to engage with you online is something wineries should want to facilitate. Even if your winery has good cell reception there isn't always the best coverage for visitors trying to connect to the internet. This is an area of opportunity for wineries to support their current marketing efforts in a simple way: create an environment for people to easily engage online.
Get the Info
To receive these one-page reports via email when they become available, sign up for our mailing list here, or email Jeremy Benson at benson@bensonmarketing.com
https://bensonmarketing.com/wp-content/uploads/BensonLogo_header_color.svg
0
0
Jeremy Benson
https://bensonmarketing.com/wp-content/uploads/BensonLogo_header_color.svg
Jeremy Benson
2011-12-10 11:04:49
2013-04-17 11:08:08
Wi-Fi in Winery Tasting Rooms