DETAILS:
The newly popular social media platform Instagram is a free photo-sharing mobile application for iPhone, iPad and Android that allows users to apply filters to alter the look of their photos. Instagram has quickly become one of the top three social networking platforms with Mashable reporting that it now has more daily users on mobile than Twitter (7.3 million daily users reported in August compared to 6.9 million daily Twitter users). The success of Instagram can be attributed to its simplicity. It merges photo sharing and mobile,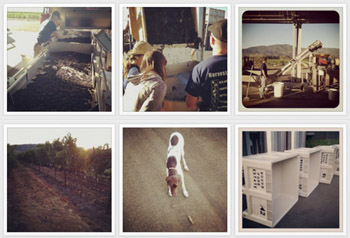 two of the hottest trends in social media, and it lacks the ability for brands to clutter user's feeds with advertising or even clickable links to buy products.
OPPORTUNITIES:
Visual Storytelling – This is really what Instagram is all about. Telling your brand story through the use of images. The quote "a picture is worth a thousand words" rings so true for this platform because memorable images can offer a deeper insight into the brand than copy.
Gain Insight into User Experience – The same could be said for Facebook and Twitter but the searchability and image-only content allow marketers to actually see how people are engaging with the brand offline. Like Twitter, you can search different hash tags to find images users are sharing about your winery. The best images can also serve as valuable content for your other social media platforms such as Facebook and Twitter.
Give an Insider Look – Consumers love feeling like they are getting an exclusive look at what goes on behind the scenes. Take images that show a day in the life of the winemaker or "of the moment" updates on how harvest is coming along. Make your followers feel like they won't get this information anywhere else.
Show Products in Action – Use images to show your followers different ways to enjoy your wines. Take photos of people enjoying your wines on a hike or at the beach, show how your wine can be used for hot mulled wine during the holidays or share photos of your wines paired with different dishes created by your chef or restaurant partners. You can also share consumer-generated photos to show the creative ways others are using your products.
Teach – Share a series of images to teach consumers how the wine is made. Take photos at different points in the winemaking process to show the step by step process. Consumers who buy your wines will feel like they are "experts" in how it was created.
SUMMARY:
Without advertising or the ability to share clickable links, Instagram serves merely as tool to help build awareness and tell the brand's story. Users appreciate the absence of heavy sales messaging and embrace the brands that offer something unique. As with any other social media platform, develop a strategy for your Instagram channel, ensure you'll have a steady stream of images to share and use your established social media communities to cross-promote to help build a following.
Get the Info
To receive these one-page reports via email when they become available, sign up for our mailing list here, or email Jeremy Benson at benson@bensonmarketing.com
https://bensonmarketing.com/wp-content/uploads/BensonLogo_header_color.svg
0
0
Jeremy Benson
https://bensonmarketing.com/wp-content/uploads/BensonLogo_header_color.svg
Jeremy Benson
2011-12-06 15:39:20
2012-12-06 15:49:04
When to get snap happy with Instagram