Details
Everyone wants to sell more product or break into a new market, and doing events specifically for the trade can be very beneficial to achieving this goal. But like press tastings, their structure and design should be considered carefully to have maximum effect. The audiences are different, so the events should be too.
Ask yourself these questions before conceiving your event:
Goals/Target Audience: Defining your goal also helps you to define your target audience. Is your goal:

To increase distribution or imports to the US? (Note: if the wines you are seeking to exhibit are not currently imported into the US, getting them into the country is a challenge that will require careful planning)
To boost sales of wines in new or existing markets?
To increase your presence on or off premise?

Offering: What will you show? Make it clear what is on offer; guests will be frustrated if they cannot find what is useful to them. Will you be including:

An entire region's wines or a smaller sub-set?
Wines from only one winery or company?
Those which are already locally available or those which are seeking distribution?

Make sure all wines are clearly labeled and identified in an accompanying tasting booklet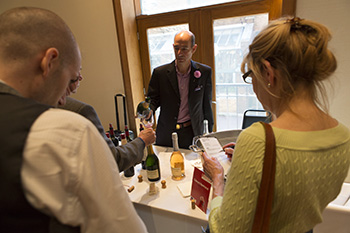 Added Value: What else can you offer? What tools or additional experiences can you provide to capture people's attention? Strong educational elements, like a seminar, encourage attendance and take-aways with wine names and prices are key.
Attendance: Recruit local experts and create ambassadors; work with the local industry to spread the word. Consider your goals for quantity vs. quality

You want visibility but having a large turn-out for the sake of numbers doesn't necessarily help you reach your goal

What we're seeing: reception style trade tastings are no longer effective at reaching top buyers in major markets

A more intimate gathering of key people can be more impactful for your product than a large event
One last Note: Keep the atmosphere light and engaging for your attendees. It is work, but doesn't need to feel like it. Get them excited about your wines, and be sure to offer them something good to eat!
Get the Info
To receive these one-page reports via email when they become available, sign up for our mailing list here, or email Jeremy Benson at benson@bensonmarketing.com
https://bensonmarketing.com/wp-content/uploads/BensonLogo_header_color.svg
0
0
Jeremy Benson
https://bensonmarketing.com/wp-content/uploads/BensonLogo_header_color.svg
Jeremy Benson
2011-12-13 10:18:20
2013-09-04 09:11:27
Are Trade Tastings Dead?