DETAILS:
"Should I go to New York and host a dinner for press?" is a question we get all the time. The answer is, predictably, it depends. There is no one-size fits all solution. The type of event will depend on your story, wine and company. Ask yourself a few questions.
Do I have news to share?
Can I teach writers about a specific topic?
Does my story fit into a larger trend? (Relevance)
Am I ready to show my best? (Is my distribution in place, the wine shows my vision)
Ok, so you've answered 'yes' to most of those. Now, the format it takes will depend on your brand story and goals. We've employed all of these. Chances are you'll know right away which one is right for you. But don't be afraid to experiment with the format.
Vertical tasting followed by lunch or dinner
Competitive tasting, pouring wines alongside direct competitors
After work 'Happy Hour'
Mid-day 'walk around' portfolio tasting
Tasting and bar bites hosted throughout the day
Now that you've decided to host a press event, here are some must dos (and a few don'ts) to make the most out of it. Good writers will not spend their free time taking a free dinner; it needs to help them get their job done.
Think Way Ahead: This recommendation is two-fold. 1) Invite press further out than you think. 6-8 weeks is an ideal timeframe. 2) Writers are thinking about holiday gifts in spring and summer, and white wines in December. Allow this to inform what you present.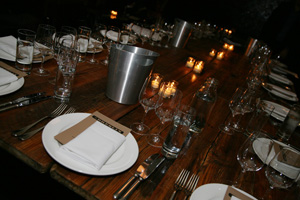 Focus: Chances are you have a thousand stories to tell. Your invitation should focus on one. One message has a better chance of being heard than three, four, or more.
Location, Location, Location: The restaurant where you're hosting your event makes a statement, so pick a new hot spot, where the food pairs well with your wines. Given the choice between a mainstay that has your wines on the list and a new trendy account that does not, pick the new hot spot and use it as an excuse to speak to the wine buyer.
Think Like a Reporter: This may seem obvious, but put yourself in the writer's shoes. What will her editor think is interesting? What aspect will his editor think is newsy? What would make for a 'sexy' column? Is there is a controversial issue (alcohol, replanting, hangtime) that you can take head on? Is there a story behind your first harvest or difficult challenge at the winery?
Become a Resource: Whether you're planning on a tasting for 100, a dinner for 8, or a 1-on-1 press meeting, be an educator. Writers will make time for a meeting or a dinner if they feel they will learn something or they can pitch their editors. And a story is rarely about one wine, so the syllabus needn't stop with your brand or vineyard. It should include your region, varietal or category you're playing in.
Be Bold: Don't be afraid to pour competitors or other wines in the category. Don't be afraid to show how your winery's style has evolved over years. Don't be afraid to show who you are. Bottom line, don't be afraid.
Be Yourself: Nothing annoys a writer more than a trained pony. If they feel you're reading from a script, they won't be able to connect with you. Wine writers love to tell authentic stories behind the story. How did you get to be where you are? What mistakes did you make? Who are the people behind the bottle and what makes them who they are?
Be Realistic: Not every writer who attends your event will be able to write a story about it, but you've created a connection with that person that you can nurture over time. Not every writer will actually show up! It's true; writers have deadlines and sometimes have to cancel. We often recommend overbooking the table since cancellations are inevitable. Your job during an event is to get to know these writers and for them to get to know you.
Get the Info
To receive these one-page reports via email when they become available, sign up for our mailing list here, or email Jeremy Benson at benson@bensonmarketing.com
https://bensonmarketing.com/wp-content/uploads/BensonLogo_header_color.svg
0
0
Jeremy Benson
https://bensonmarketing.com/wp-content/uploads/BensonLogo_header_color.svg
Jeremy Benson
2011-12-07 14:51:58
2013-02-27 14:59:32
Press Dinner, Lunches and Tastings – Yay or Nay?