Details
What's the best way to give your fans a behind the scenes look at harvest? Video! With harvest upon us, wineries across the country will document. This year we have a few platforms to choose from when posting videos: Facebook-owned Instagram or Twitter's Vine. But where is the best place to share your awesome harvest footage? Let's explore:
| | | |
| --- | --- | --- |
| | Instagram | Vine |
| Length of video | 15 seconds; non-looping | 6 seconds; looping |
| Sound | Yes | Yes |
| Share-ability | Facebook, Twitter, Tumblr, Flickr, email, Foursquare | Facebook, Twitter |
| Embeddable | No | Yes |
| Geotagging | Yes | Yes |
| Ability to delete clips | Yes | No |
Now, what do you need to take into account for your harvest videos?
Video Length –
This is one of the biggest differences. For Instagram users, the longer video is a plus when it comes to capturing more detail. However the shorter video time that Vine allows (and the looping feature) can be seen as a challenge for the most creative users.
Verdict: Instagram works great for showing the process of how things work. During harvest there are a lot of steps along the way. Create a video that shows the harvested grapes as they go from the bin to the destemmer to the fermentation tank. Fans will get a better idea of the sequence of events.
Features –
Instagram users are familiar with adding filters to photos and giving them a cool vintage look. This same feature that made Instagram a popular photo sharing platform can be used to spruce up videos. For Vine, the feature that makes it unique is the looping video. The 6 second video automatically re-starts once it's finished giving the illusion that it never really ends (which makes for some fun videos: http://mashable.com/2013/06/09/perfect-loop-vine/)
Verdict: It depends. Both of these features give their respective platforms it's "cool factor". Enhance the look of your video with one of Instagrams filters. Feeling creative? Attempt a seemless looping Vine video in 6 seconds or less.
Editing capabilities – Both platforms allow you to shoot disjointed clips and string them together. However, with Instagram you can easily delete the last segment you shot. Vine doesn't allow any editing features.
Verdict: Thinking you might need a few takes? Use Intagram, purely because Vine doesn't offer editing.
Embeddable –
Do you plan on using these videos on your website or blog? How about any sales training materials? You will most likely want the ability to embed videos elsewhere.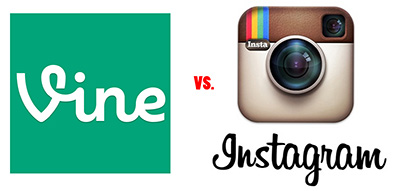 Verdict: This is a huge advantage that Vine has over Instagram. Embed harvest videos onto your website or blog to keep content fresh for new visitors to your sites.
Summary:
Both apps will continue to thrive, for different uses. Vine users (just hit the 40 million mark this week) see the time constraint as a creative challenge [See our creative attempt at a Vine video just after it launched: https://vine.co/v/bP2Ya1etDZB]. Instagram's faithful following (now up to 130 million monthly users) are familiar with the platform, want the freedom to create longer videos and jazz them up with filters.
For wineries, especially during harvest, efficiency will always win. Go with Instagram. The longer videos allow more time to capture the harvest process and the easy integration.
Get the Info
To receive these one-page reports via email when they become available, sign up for our mailing list here, or email Jeremy Benson at benson@bensonmarketing.com
https://bensonmarketing.com/wp-content/uploads/BensonLogo_header_color.svg
0
0
Jeremy Benson
https://bensonmarketing.com/wp-content/uploads/BensonLogo_header_color.svg
Jeremy Benson
2011-12-15 09:07:22
2013-10-02 12:09:01
Instagram vs. Vine: Where to Share Video During Harvest?