Details
Every year it seems that we are approached by more and more wine events asking our clients to buy sponsorships at consumer events but, at the same time, we and our clients become more and more skeptical. In most cases, the events offer a "sampling opportunity" but unless there is a larger strategy to make the event to drive sales, sampling can just be another word for wasted product. However, there are ways to get benefit beyond the event itself. Here are some ways we do it: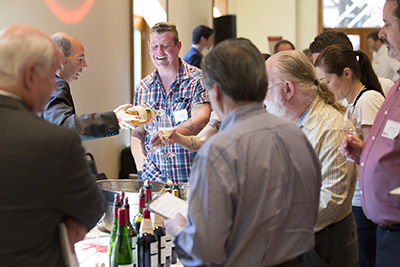 MAKE A BIG IMPRESSION: Big events are expensive and it's easy to get lost among the crowd at a "grand tasting," but for launching a new product or positioning, a high-level sponsorship can be worth the spend.
EXAMPLE: Burger Bash at the South Beach Wine & Food Festival for Rosé d'Anjou. This off-dry rosé was once very popular in the U.S. but now it needs a re-launch. Burger Bash is a high profile event for 3,000 people, where 35 celebrity chefs from around the country compete for the best burger in the show. As exclusive wine sponsor,  we made sure each chef got a bottle, and we collected contact information so that sales teams could follow up. In addition, the event is well chosen to communicate Rosé d'Anjou's positioning as a fun wine for casual drinking, grilling and outdoors. We poured 82 cases worth of samples in 3 hours.
GIVE VISITORS SOMETHING EXTRA: Exclusive sponsorships are not appropriate or affordable for all clients, and we need ways to stand out from the other tables in those big rooms where thousands of guest are trying to taste as many wines as possible. Give them something they are not getting at other tables, and that doesn't just mean swag.
EXAMPLE: Loire Valley Wines at Wine Riot. Loire Valley wines are gaining in popularity but they are still not widely known, so education is essential. We give our staff talking points for each wine that are clear, memorable and can be delivered in a minute or less. They include the grapes, the style and a suggested food pairing for each wine. Of course, if visitors are interested, we can tell them much more and people love learning something new, but you only have a few seconds to get them interested.
KEEP IT SIMPLE: Too much variety is confusing. After four wines, people want to move on to the next table. Don't ask people to remember too much.
MAKE THE EVENT WORK FOR YOU: But how will visitors remember what they have learned once they move on to the next table? We print pocket sized cards for all events with the names of all the wines, prices and where they are locally available. This may seem obvious, but it is surprising how few brands do it. If visitors cannot buy on the spot, we need do all we can to remind them what they tasted and where they can buy it.
Get the Info
To receive these one-page reports via email when they become available, sign up for our mailing list here, or email Jeremy Benson at benson@bensonmarketing.com
https://bensonmarketing.com/wp-content/uploads/BensonLogo_header_color.svg
0
0
Jeremy Benson
https://bensonmarketing.com/wp-content/uploads/BensonLogo_header_color.svg
Jeremy Benson
2011-12-12 09:49:21
2013-08-28 15:29:22
Making Events Work for You